Complete, High-Quality Machine Shop in Salt Lake City
Using All State-of-the-Art Equipment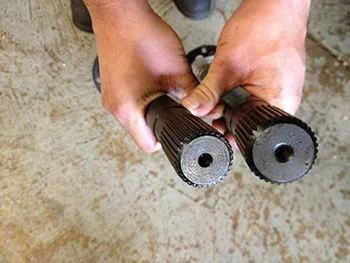 In Salt Lake City, machine shops full of state-of-the-art equipment for car repairs are not exactly a rarity, but we're proud to say that ours started from humble beginnings.
About 20 years ago, Tip Top began with a flywheel grinder and a single purpose: To speed up the clutch replacement process and get our customers back to their commutes, road trips and everywhere else they were going. You can never have too much of a good thing, and the past two decades has seen our grinder grow into a full-fledged machine shop in our Salt Lake City location ready for all of your mechanical needs.
Salt Lake City's Preferred Machine Shop
From clutch issues to front and rear axle problems, many auto repairs require parts replacement. Some auto shops rely on sourcing parts from third-party suppliers, but that could affect the turnaround time of their services. Imagine leaving your car in a shop for weeks just because the technicians need to wait for parts before they could complete the repair job.
That rarely happens here at Tip Top Transmissions, thanks to our complete machine facility. In Salt Lake City, we're one of the few auto repair shops with parts fabrication, reverse engineering and other machining capabilities. Have a demand for transmission work ? You got it. Our technicians can rebuild all models of transmission. How about some catalytic converter TLC? We can take care of that, too. Even if it's an RV that needs parts replacement , our shop gets the job done.
Our mechanics are undoubtedly the "top" in the industry but even great service technicians need the right tools. That's why we combine state of the art equipment, and a sprinkling of old standards (we still have a flywheel grinder), with the best mechanics in Salt Lake City.
Our Commitment Has Stood the Test of Time
However, one thing hasn't changed at all, and that's our commitment to our customers. Along with our skills and experience that provide excellent automotive services, our customers appreciate they are treated at Tip Top Transmissions. Superior customer service, affordable rates, a quick turnaround, and the kind of quality service that keeps you and your loved ones safe is what we're all about. Tip Top Transmissions takes care of the vehicle that takes care of you and your family.
There is no aspect of your vehicle's engine repair that we're not already familiar with. If it's under the hood, we can take care of it – and if it's not, there's a good chance we can take care of that, too. No matter what's happening with your vehicle, you deserve the best in the business to take care of you. Come find out what two decades of experience looks like – and how it can benefit you.