Expert Auto Transmission Repair Service in Salt Lake City
Your Transmission Rebuild Begins Here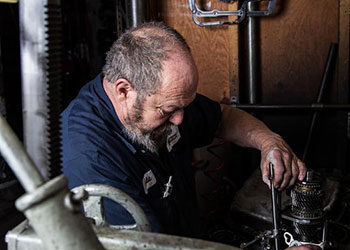 So you're having problems with your transmission? Well, the experts at Tip Top Transmissions are going to give you the diagnosis that saves the day. But it's knowing the when and why of the rebuild that you won't find at every transmission rebuild shop in Salt Lake City.
Reap the Benefits of Transmission Rebuild
All transmissions run into some part failure over time. The transmission, after all, is a complex system that includes many elements such as gears, seals and belts. After years of driving your car around and out of Salt Lake City, these components break down to the extent that repair jobs no longer suffice, and you have to rebuild those parts, or even the entire system.
Our transmission rebuild in Salt Lake City is a comprehensive process to replace all worn or failing components with new, upgraded parts. We have an in-house machine shop that enables us to do rebuilds without waiting for shipments of auto parts from various suppliers. Before we install the transmission in your car, our technicians clean, test and verify every part of the system to make sure it's in optimum condition. Once everything is good, we give the car back to you. We give you peace of mind in knowing you can drive your vehicle safely again.
We Help You Decide When it's Time to Rebuild
As skilled as we are in rebuilding, our first priority is only doing what's most cost effective and safe for your vehicle. Too many other mechanics will tell you to rebuild just because they can, and they know you're willing to pay for it. We want you to know that our transmission service starts with our thorough diagnosis. A complete examination of your engine's components will give us all the information that you need to make an informed decision. It's often the case that another one of our less expensive services will solve your vehicle's problem. Our process is transparent, and we bring you with us on the road to your transmission repair. Sometimes, a solid and experienced team is required to rebuild your transmission, and that's exactly what we offer.
Leave Your Transmission Rebuild in Our Expert Hands
We've been rebuilding all models of transmissions in-house from the day we started. That's right – there's no scouring for used transmissions online or sending out parts for "experts" to take a look. The experts, who specialize in rebuilding transmissions, are already here. Whether your repair is a minor problem or a major overhaul there's no need to worry when your transmission's in our hands. What's better than a knowledgeable and highly trained mechanic? Our team of knowledgeable and highly trained mechanics at Tip Top Transmissions. Iron sharpens iron, and we only work with fellow elite mechanics. That way we make sure all diagnoses, transmissions rebuilds, and services have the brightest minds in the automotive industry working on your transmission.